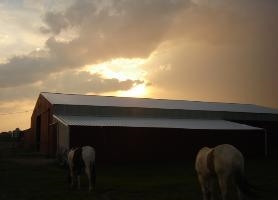 Harvest Moon Acres, LLC
We are a small horse boarding and riding lesson facility located in Marysville, Ohio. We specialize in novice riders of all ages and 4H riders.
Harvest Moon Acres, LLC
Jennifer Lowe

Barn Owner/Riding Instructor

I began riding at the age of 8. I started out riding hunter/jumpers and continued to ride throughout my childhood and into college. My husband Rocky and I opened the facility in 2006 and I have been teaching lessons ever since! I specialize in teaching horsemanship from the ground up -safe handling, grooming and saddling up, in addition to balanced position and confidence in the saddle.
Harvest Moon Acres, LLC
Harvest Moon Acres, LLC
Monday

Wednesday

Thursday

Saturday

6:00pm - 8:00pm

6:00pm - 8:00pm

6:00pm - 8:00pm

11:00am - 3:00pm