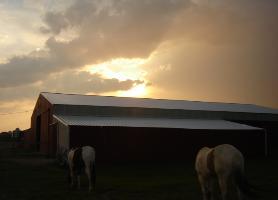 Harvest Moon Acres, LLC
We are a small, private Horsemanship lesson facility located in Marysville, Ohio. Jennifer has been riding for over 40 years, and has been an instructor for 14 years. She has been an advisor for the Grassy Run Riders 4H Club for 15 years. We specialize in youth novice riders and 4H riders in both English and Western disciplines.
Harvest Moon Acres, LLC
Jennifer Lowe

Barn Owner/Riding Instructor

I began riding at the age of 8. I started out riding hunter/jumpers and continued to ride throughout my childhood and into college. My husband Rocky and I opened the facility in 2006 and I have been teaching lessons ever since! I specialize in teaching horsemanship from the ground up -safe handling, grooming and saddling up, in addition to balanced position and confidence in the saddle.
Harvest Moon Acres, LLC
Harvest Moon Acres, LLC
Wednesday

Thursday

Saturday

5:30pm - 8:00pm

5:00pm - 8:00pm

9:00am - 3:00pm